Mayan Calendar Baby Gender 2022 – Mayan Gender Predictor Calculator 2022 is one of the widely used gender predictor methods globally.
It is based on the ancient Maya Civilization (mesoamerican civilization) Calendar – which is based on a highly complex series of interlocking ritual calendars that the Mayans used in the ancient period.
Once you get a positive pregnancy test result. you will surely have lots of curiosity about a New Life in your womb. You want to know each and everything about your pregnancy like your due date, baby gender, health preventive measures during pregnancy, morning sickness, three trimesters journey, and many more. But your family member will be more curious to know "whether you know what you are having?". I know you are also curious to know your baby's gender. To fulfill your desire to know your baby's gender we have designed a Mayan Gender Predictor Calculator 2022.
there are a number of online reviews that claimed Mayan Calendar baby gender 2022 has an accuracy up to 95% but there is no such scientific research available that support this Claim. However, as a fun activity, you can try Mayan Calendar baby gender 2022 to predict Baby's Gender.
Maya Civilization Calendar
The Maya calendar is the most complex, intricate, and extremely accurate calendar available these days, and the calculations of Maya calendar designers were so precise that their calendar correction is 10,000th of a day more exact than the standard calendar the world uses today.
Mayan Calendar is a solar-based Calendar that has 20-day months and had two calendar years: the 260-day Sacred Round, or tzolkin, and the 365-day Vague Year, or Haab. These two calendars coincided every 52 years. The 52-year period of time was called a "bundle" and meant the same to the Maya as our century does to us.

The Mayan calendar is not designed to calculate dates but its main purpose is to predict the future (as our astrological zodiac does.) The Mayan people believed that a person's birthday or day-sign determined his/her fate through life. Each newborn child was thus connected with a particular god based on their time and date of born and throughout his/her life they remained under that god's influence. Some gods were more auspicious than others, and a child born under a well-wishing god was considered lucky. A child born under a less kind deity had to ensure throughout his or her life that the god was propitiated – especially during vulnerable periods like the unlucky uayeb of the solar year.
Mayan Calendar Baby Gender 2022
Mayan Calendar baby gender 2022 is based on 365 days Vague Year or Haab which has the 18 Maya months are known, in order, as: POP, UO, ZIP, SOTZ, TZEK, XUL, YAXKIN, MOL, CHEN, YAX, ZAK, CEH, MAK, KANKIN, MUAN, PAX, KAYAB, KUMKU, UAYEB. The unlucky five-day period was known as uayeb, and was considered an ominous time that could precipitate danger, death, and bad luck.
Mayan Gender Baby Gender 2022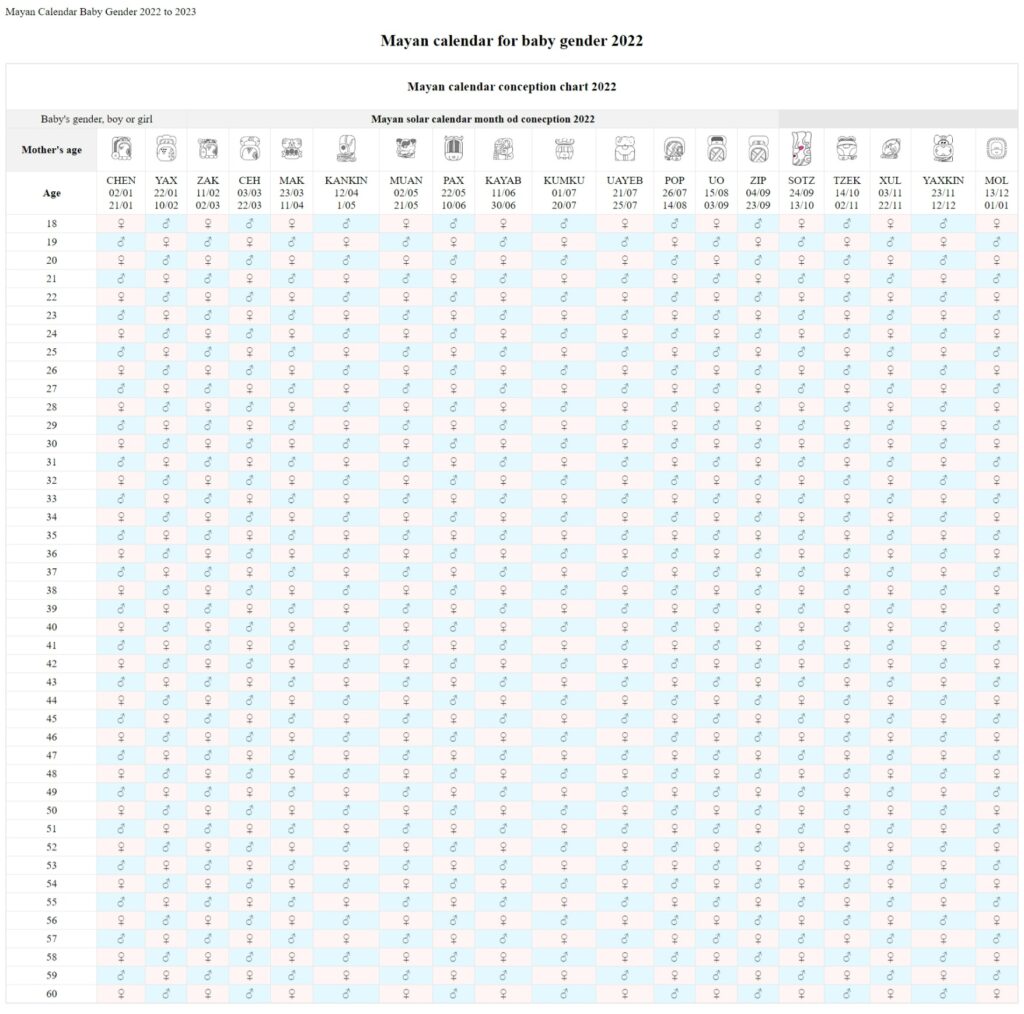 How to read gender calendar 2022
The Mayan Gender Calendar consists of two sections Row and Column. The symbol of Baby Boy is ♂ and the symbol of Baby Girl is ♀.
The Gender calendar 2022 row shows the solar month of pregnancy.
The column of gender calendar 2022 shows the Mayan solar calendar mother's age from 18 to 60years.
How to calculate the Mayan month of pregnancy?
While using the Mayan solar birth gender calendar 2022 just keep in mind that the calendar row i.e month of pregnancy is the month of conception, not your last menstruation month.
If you do not know the exact conception date then use this method to calculate it.
Add 14 days to your last menstruation cycle date
for example, if your last conception date is the 12th of the last month then your conception date will be 12+14 i.e 26th of the month. one more point if the conception date is after the 25th of the month then, it should be counted as next month.
How to calculate the Mayan age of the mother?
This Mayan Calendar Baby Gender 2022 is based on a 365-day Vague Year or Haab which is similar to the western Gregorian calendar. hence your Mayan age is the same as the age based on the western gregorian calendar.
How to determine Baby gender based on mayan Gender Calendar 2022?
Suppose your actual age is 25 years as of today and your date of conception is the 24th of March ( if you do not know your date of conception then read this calendar baby gender 2022 to 2023 to calculate it).
To read the gender calendar 2022 use these simples steps
Calculate your Mayan age on the date of conception which is the same as your actual age as per the western gregorian calendar on the date of conception. i.e 25 years.
Calculate your month of conception based on your date of conception i.e 24th of march means MAK Mayan month
Based on steps 1 and 2 find your baby gender from the gender calendar 2022 i.e for 25 years of mother age and MAK Mayan month your baby gender is Baby Boy ( ♂ )
Mayan Gender Predictor Calculator 2022
Mayan Gender predictor Calculator 2022 is the Mayan calendar-based gender calculator which shows the same result as the Mayan gender calendar show. The only difference is it more convenient to use than the Mayan gender calendar 2022.
---
---
Mayan Gender Prediction Calculator
---
How to use the Mayan gender 2022 calculator
Mayan Gender predictor Calculator 2022 predicts your baby's gender based on Mayan calendar month dates. It converts the mother's age at the time of conception and date of conception dates into the Mayan calendar month date format as used in the ancient Mayan month-based gender calendar. If you don't know your Mayan month calendar dates, then you need not worry! We've made this Mayan Gender Predictor Calculator 2022 gender 2022 that converts all western gregorian calendar dates to Mayan date and generate an accurate result for you. All you have to do is:
Enter your actual date of birth.
Enter your date of conception.
Click "View result."
This calculator will convert your birth date and date of conception into your Mayan calendar dates to give accurate gender prediction.
Is the Gender Calendar different every Year?
No. Mayan Gender Calendar is based on the fixed solar age of the mother and fixed solar month of conception which has 18 months and 5 days in a year but in today's era, most of us use the Gregorian or Western calendar of 12 months in our daily routine, and the Birthdate or date of conception is based on Gregorian or Western calendar never give the correct result in Gender Calendar . So just for your convenience, we have labeled the Gender Calendar with Gregorian or Western calendar dates that in line with Mayan calendar month dates .
There are multiple Gender Gender Calendar?
There is only one Mayan Gender gender calendar instead of multiple ones. You may find different versions of the chart across different websites but if they differ from the one shown above then it must be the wrong one due to some mistake or any other reasons.
What's the difference between The Mayan Calendar Baby Gender 2022 and Mayan Gender Predictor Calculator 2022.
In this post, we have provided you two ways to predict your baby's gender during pregnancy. Both of them show the same result based on the ancient Mayan gender calendar. The only difference is that Mayan Gender Predictor Calculator 2022 automatically converts your Gregorian or Western calendar-based date of birth and date of conception into Mayan Calendar month dates to show you the correct result. Whereas in Mayan Calendar Baby Gender 2022 same steps you need to do manually. In both ways, your result always remains the same and correct as per the ancient Mayan gender calendar.
Are there any more ways to predict the baby's gender?
Apart from the Mayan Gender Predictor Calculator and Mayan Calendar Baby Gender, there are many other ways as well to predict the baby's gender. Some of them are based on Old folk or Old wives' Tales and others are purely scientific methods. We have discussed them in detail in our BABY GENDER section. If you are curious to know then you can visit the page BABY GENDER for more detailed information.
---