Lipozene is a weight-loss supplement diet pills that use "
AMOPHOPHALLUS KONJAC"

  a water-soluble fibre, as its main ingredient.
but
Does it really reduce weight?
Can these MAGIC PILLS reduce weight without a diet? 
Are there really no side effects of using these Pills? 
To get the answers to all these questions you need to read this product review and by the end of this article, you will be sure whether this product is designed for you or not?
I had reviewed this drug based on information available from different sources and found a few interesting details about it. I recommend you to read this review before making a purchase decision for Lipozene.
lipozene reviews, does lipozene work and lipozene complaints
Lipozene Company Details
Company name: Obesity Research Institute LLC
Company Industry: Health, Wellness and Fitness Company.
Company Address : 2032 Corte Del Nogal, Carlsbad, CA, United States.
Official Website: http://www.lipozene.com
Contact  address mention at the website: 4910 Longley lane, Suite 101, Reno NV 89502
Lipozene Weight Loss Process
As per company claim "Lipozene is made from Glucomannan, which is extracted from the Konjac Root. This water-soluble fibre has been used as a weight-loss aid in Japan for generations. This active ingredient in Lipozene is one of the most studied ingredients for weight loss. It is believed that this water-soluble fibre expands and acts as a dietary fibre gel in your stomach that will give you a feeling of fullness, so you eat less and as a result, reach your weight loss goals quicker."
Lipozene Ingredients
Its main ingredient is Amorphophallus Konjac but there are other ingredients. The complete list of Lipozene ingredients is mentioned below
Amorphophallus Konjac

Gelatin
Microcrystalline  cellulose
Magnesium silicate
Stearic acid
Titanium dioxide
FD&C Blue#1.
Mazor issues with Lipozene and its claim to
"MAGIC WEIGHT LOSS PILLS "
Lipozene's main ingredient Amorphophallus konjac has water-absorbing abilities that help it expand in the stomach after its capsules swallow by the user, but it does not assure consistent weight loss results across users. Lipozene manufacturers agree that results vary from person to person and exact weight loss cannot be guaranteed.
Amorphophallus konjac Glucomannan is suitable for short-term use only. Its long-term usage impact on the human body is still not clear among researchers.
Many users also reported minor adverse effects such as belching, bloating, loose stools, flatulence, diarrhoea, constipation, and abdominal discomfort on the usage of pills.
Pill intake without adequate fluid is dangerous as it may swell and block the throat or esophagus which can cause choking hence it is not recommended for those who find difficulty in swallowing capsules or medicine.
The product is neither recommendable nor suitable for pregnant and lactating women.
Lipozene taken before bedtime may cause a choking problem in a few cases.
Lipozene is not an FDA approved drug.
ORI Lipozene research SAMPLE SIZE is TOO SMALL for their SUPER WEIGHT LOSS PILL CLAIM.
Lipozene never rules out the possibility of side effects. as per their official site "There are no known side effects on usage" which means there can be some side effects which are not known to them.
Lipozene can cause medical complications for the user if taken with other ongoing medication hence additional medical consultation is a must before taking the pill.
Customer Reviews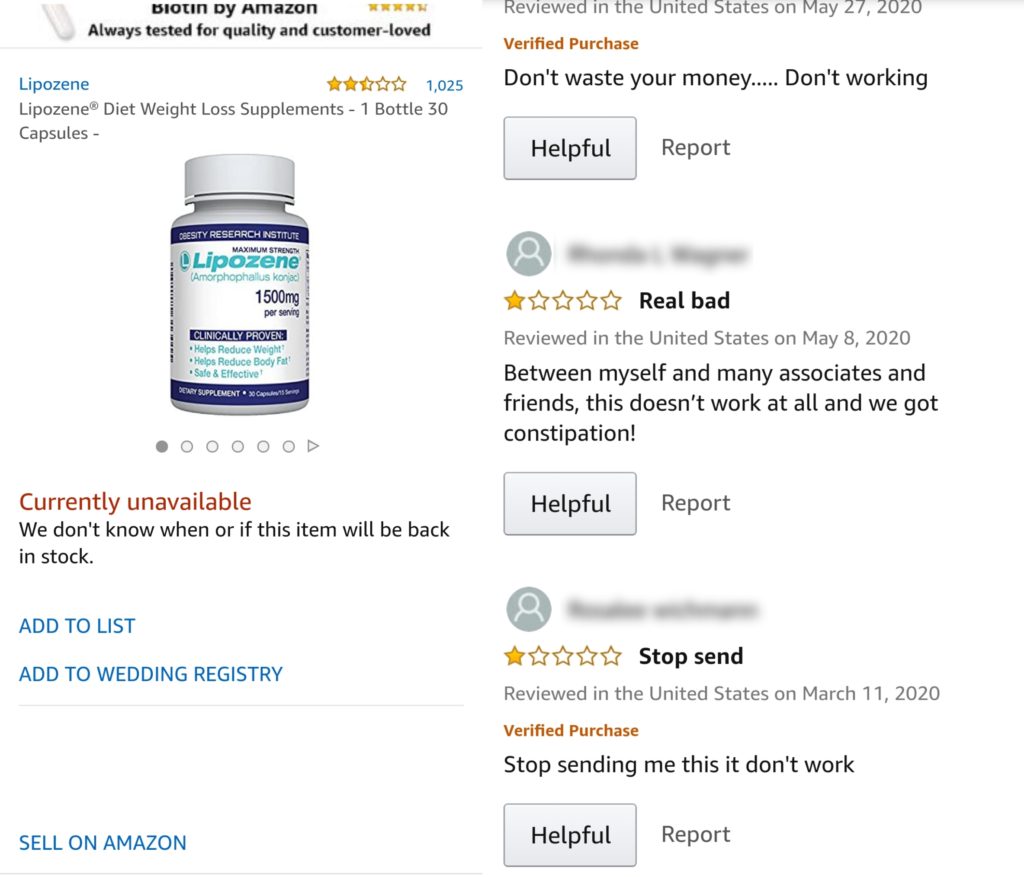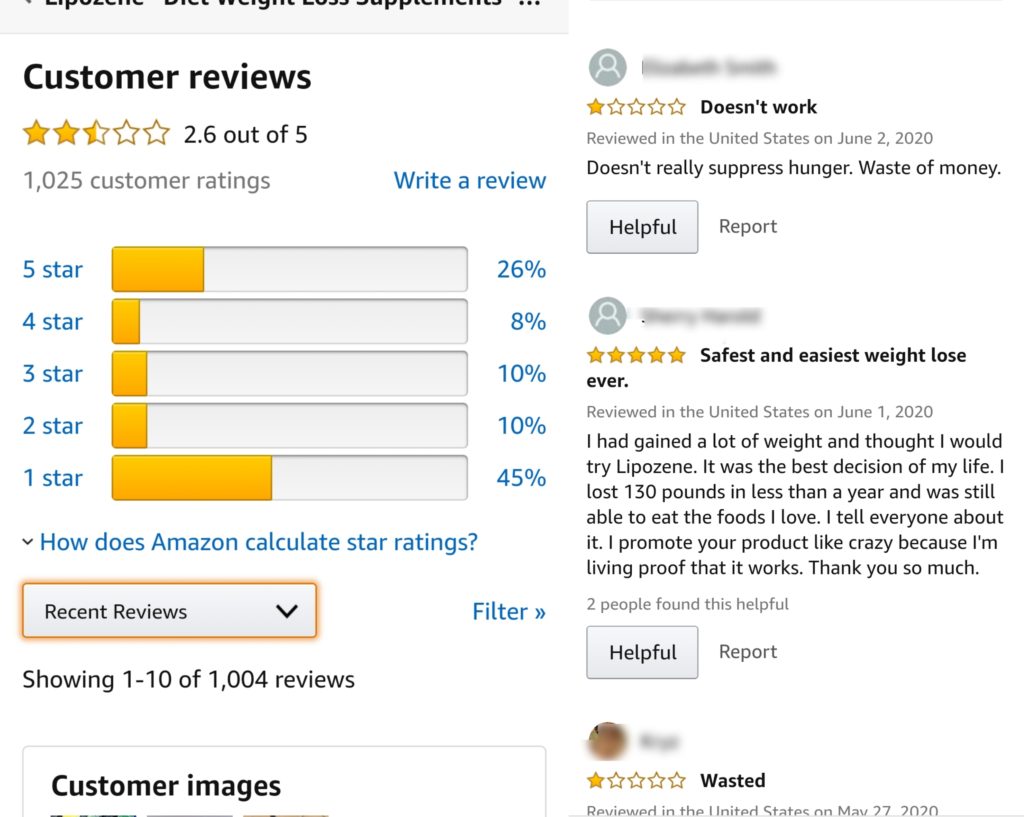 Final words
Lipozene is a weight-loss supplement diet pill that has Amorphophallus konjac as its main ingredient. Amorphophallus konjac has the ability to absorb water up to 50 times its weight and expand in the stomach that will give you a feeling of fullness, so you eat less but its authenticity cannot be verified due to lesser number of research evidence, unavailability of FDA approval and non-availability of scientific study material on the effect of using Lipozene with others ongoing user medication such as high diabetes or high blood pressure medication.
Whether to purchase it or not?
Individual discretion is required while making purchase decisions as Amorphophallus konjac weight loss results are not consistent and the drug requires more scientific studies and evidence to find side effects of pill when taken with other disease medications such diabetes.
Also, read some more informative articles on similar topics that are available on this blog
All children can learn – Click Here
How to teach a kid to read –Click Here
Hazel and bo store  Review – Click here
Nursery Design Ideas for your baby room  –Click here
If you have any questions or comments about what I've just shared, simply leave them here and I'll get back to you soon